*CHILDREN UNDER 16 MUST EVALUATED DURING A FREE INTRODUCTORY CLASS TO DETERMINE IF THEY ARE ELIGIBLE FOR THIS CLASS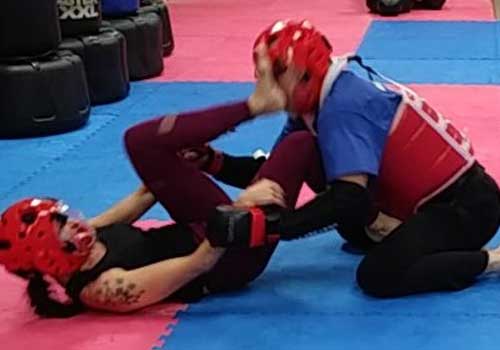 Our ADULT SELF-DEFENSE PROGRAM combines some aspects of striking and grappling from our Martial Arts program but puts the emphasis on the situations one may find themselves in where defending themselves without constraints of rules would apply. This isn't a sparring, boxing or Jiu Jitsu class. It's NOT about "winning" a fight. It's about surviving a real world self-defense situation and creating the opportunity to escape. The basics of striking for self-defense, taking control of positions on the ground, and learning to perform these techniques under stress (which is key) are taught in this program.
This is a great class for those kids going off to college, parents of children, and for those looking to challenge themselves. It's better to know it and to never have to use it, than to need it and not have it.
Best of all, NO MARTIAL ARTS EXPERIENCE IS NEEDED!